Featuring the films and show:
Before Midnight (2013) ***½
You, Me and the Apocalypse, season 1 (10 45-min. eps. 2016) ****
Cradle Will Rock (1999) ***½
David Gilmour: Wider Horizons (2015) ***
OK. I really am trying to catch up. I was also at a loss at how to label this week since most of the week took place during March, but most of film watching during it took place over the first weekend of April. You'll just have to make do.
It was a mostly good week, if it weren't for the second JCVD movie in a row watched for the podcast How Did This Get Made?. A couple weeks ago I discussed "Bloodsport" and for his directorial debut, "The Quest", you can pretty much just transfer those thoughts over because the two movies are exactly the same. I mean there are some minor difference, like the fact that "The Quest" takes place in the 1920s and that it's rated PG-13, but other than those insignificant details, pretty much the same movie.
I watched two wonderful indies this week, Tim Robbins' ensemble comedy "Cradle Will Rock", about the federal theater program during the depression and a pro-union play put on by Orson Welles's theater group, and the final film in Richard Linklater's "Before" trilogy, "Before Midnight", starring Julie Delpy and Ethan Hawke. Both are filled with a passion for cinema, and independent cinema in particular. Robbins' film is sprawling epic in indie terms in they way it follows many different storylines, all integral elements in building the healthy New York theater scene that continues to this day on Broadway and many smaller theaters in Manhattan.
Linklater's film embraces the more minimalist and intimate nature of indie cinema by once again revisiting the same couple from the previous two movies some twenty years after they originally met. They are still intellectuals who talk to each other in seemingly freeform conversation, but now married they find life has, as it inevitably will, intervened and complicated their relationship in ways that make it seem as if they no longer know each other and simultaneously know too much about each other.
I also watched two music documentaries this week, something I always wish I did more of when I do get around to watching one. The first was "Monterey Pop", D.A. Pennebaker's concert film of what has long been thought of as the very first multi-day rock music festival. With better but unfortunately much briefer performances than the better known "Woodstock" by artists like Janis Joplin, The Who, Jefferson Airplane, Otis Redding and Jimi Hendrix, this film is much more musically intimate than its better known sister. And what great music it is.
The second music doc, "David Gilmour: Wider Horizons", follows the longtime front man of Pink Floyd through the recording and tour rehearsals of his most recent solo album "Rattle That Lock". The doc reveals much about Gilmour's creative process and family life, something that has become quite intertwined for the famous guitarist as his life has progressed. I was impressed by how deep it went into the artist's career for what was essentially intended to be a promotional documentary.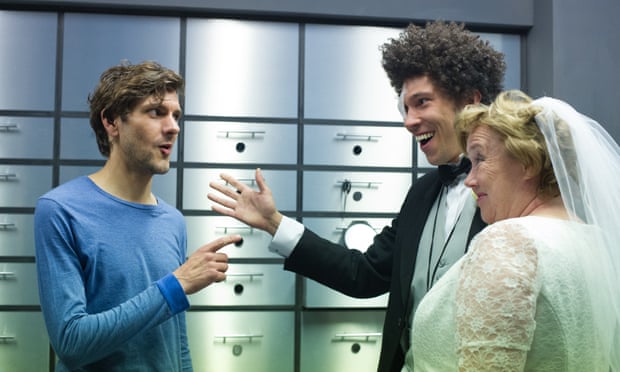 Finally, the new television series "You, Me and the Apocalypse" finished up its U.S. run. I watched the show on a whim and found myself pulled in by its unconventional structure and approach to material that is both comedy and drama. The characters are much better developed than one normally sees on network television, no cookie cutter personalities or choices made by these people. By the end of is initial season, it had become my favorite new show of 2016. Unfortunately, my wife and I may have been the only Americans that watched the show. It was another of NBC's joint European productions, like their other undervalued international production "Welcome To Sweden". I hope the ratings were better in Europe than they were here in the States, so the networks can justify continuing the show on at least another platform here in the States.
‪#youmeandtheapocolypse
is one of the more extraordinary television shows I've seen Unique and charming Hope
‪@nbc
can find a way to continue
Stumbled upon a fascinating in depth documentary on David Gilmour on
‪@MTVLiveHD
called Wider Horizons today.
‪#DLMChallenge
No. 89